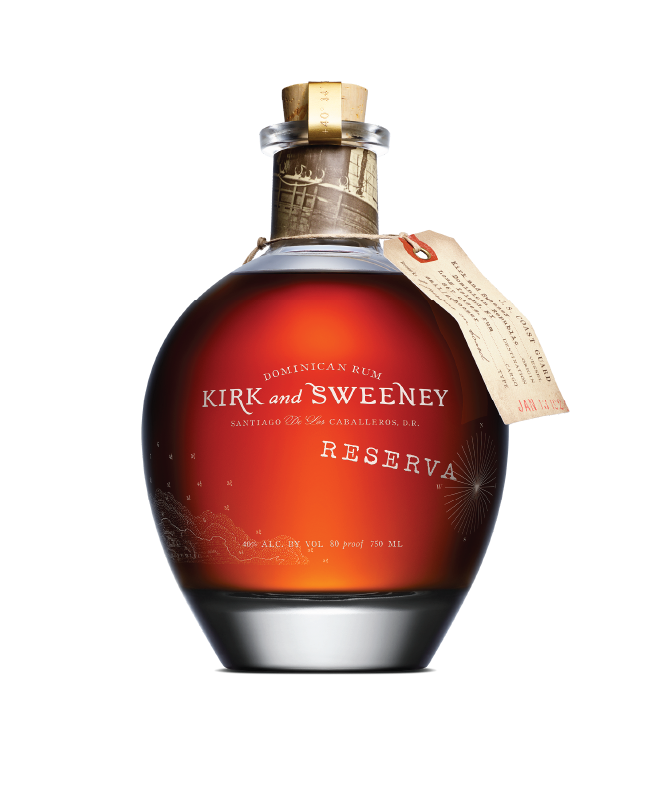 Reserva
This deep mahogany colored rum presents a sweet aroma balanced heavily toward cane honey, with earthy sugar cane undertones, along with a hint of vanilla, luscious toasted oak, caramel and dried fruits.
Initial taste reveals a nectar-sweet quality, leading to a weightier body that's serious in character but not overbearing. Light notes of vanilla and wood hit the palate transforming into an incredibly smooth offering. Bold, ripe, and sweet vanilla flavors evolve near the end, providing a smooth, long and luxurious finish.
Blend of rums aged for 3 and 14 years
Pick up a bottle at a retailer near you or sip on a drink at a local restaurant.
2 oz. Kirk and Sweeney Reserva
1 oz. Liquid Alchemist Coconut
.75 oz. Fresh Orange Juice
Combine all ingredients less the nutmeg into shaker tin, add ice, cap and shake vigorously. Use a Hawthorne strainer to strain the liquid over crushed or pebble ice. Top with freshly grated nutmeg, add orange moon standing up inside the glass, then add a pineapple wedge to the glass and serve.